Plain Paper Bag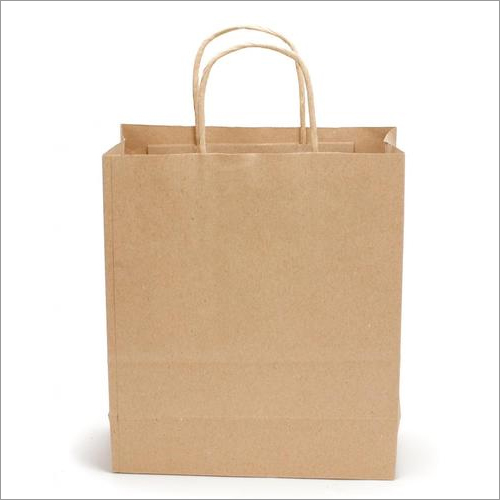 Plain Paper Bag
Price And Quantity
Product Specifications
Biodegradable, Disposable
Product Description
Simple and adaptable, basic paper bags are constructed completely of paper. These bags are frequently used to package and transport a variety of objects, including groceries, clothing, books, and other light items.
Kraft paper, a robust and long-lasting kind of paper that can support a reasonable amount of weight, is often used to make plain paper bags. Kraft paper is frequently created from wood pulp and is renowned for its resilience to tearing. Although they can sometimes be found in white or other colours, the bags are typically uncoated and naturally brown in colour.
A basic paper bag often has a square or rectangular shape with folded bottom and sides. This method of folding makes the bag expandable so it can hold goods of various sizes. The top of the bag is frequently open, and it may feature flat or twisted paper handles for carrying convenience.
In a variety of retail environments, such as grocery stores, apparel stores, and gift shops, these bags are frequently utilised. Since they are recyclable and biodegradable, they serve as an environmentally responsible substitute for plastic bags. In order to lessen their environmental impact and promote sustainability, several firms use plain paper bags.
To reflect a particular business or occasion, plain paper bags can also be personalised with logos, branding, or printed graphics. For increased strength and longevity, some companies decide to include extra features like reinforced handles or a reinforced bottom.
It's crucial to think about a plain paper bag's weight-bearing capacity before utilising one. They work best with light to medium weight objects. By stuffing the bag too full, you run the risk of damaging or destroying it.
Overall, using plain paper bags to package and transport diverse products is a useful and sustainable solution. They provide a straightforward yet efficient answer for people and companies looking for an eco-friendly substitute for plastic bags.
Product Specification
| | |
| --- | --- |
| Color | Brown |
| Usage/Application | Grocery |
| Capacity | 2kg |
| Size | 1 X 1 Feet |
| Material | Paper |
| Style | Rope Handle |
FAQ
1. What exactly are plain paper bags?
Ans - A plain paper bag is a type of paper packaging that typically has a flat bottom and a straightforward handle. It is frequently used for transporting groceries, shopping, and other stuff.
2. How are plain paper bags created?
Ans - To make a basic paper bag, thick paper is normally folded into a rectangle and the sides are sealed with glue or staples.
3. How should a plain paper bag be stored?
Ans - A plain paper bag should be kept in a cool, dry location away from direct sunlight and moisture.
4. What can a plain paper bag hold?
Ans - The capacity of a plain paper bag is determined by its size and the weight of the goods it is holding.
5. What is the lifespan of a plain paper bag?
Ans - A well-made bag can typically endure for several years, but the longevity of a simple paper bag depends on the paper's quality and how it is handled.
Contact Us
4 A Govind Chand Dhar Lane, 2nd Floor , Room No. 205 , Kolkata, West Bengal, 700001, India
Phone :+918037550757