Fingertip Pulse Oximeter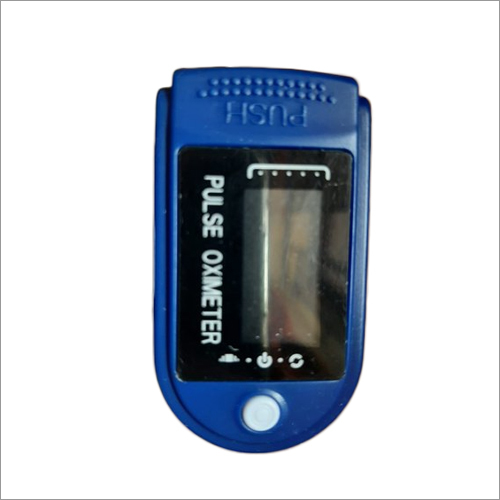 Fingertip Pulse Oximeter
Price And Quantity
Product Specifications
Plastic

SpO2 + Pulse Rate
Product Description
A fingertip pulse oximeter is a tiny medical tool used to monitor someone's heart rate and oxygen saturation level (SpO2). It is a portable, non-invasive gadget that may be put on a fingertip to get rapid, easy readings.
Through the fingertip, the pulse oximeter emits two wavelengths of light, typically red and infrared. On the basis of the variations in light absorption between oxygenated and deoxygenated blood, the gadget then detects the amount of light that goes through the finger and determines the oxygen saturation level and pulse rate.
The amount of oxygen-carrying haemoglobin in the blood is determined by the oxygen saturation level. The normal range of oxygen saturation is between 95% and 100%. The number of times the heart beats per minute is referred to as pulse rate, on the other hand.
In a variety of contexts, including hospitals, clinics, and home healthcare, fingertip pulse oximeters are frequently utilised. They are especially helpful for people recovering from surgery or suffering with respiratory disorders like asthma or chronic obstructive pulmonary disease (COPD). Athletes and anyone engaged in high-altitude activities can also use them to check their oxygen levels and guarantee peak performance.
Typically, the gadget is portable, light, and simple to operate. The oxygen saturation level and pulse rate are displayed on the display screen of the majority of fingertip pulse oximeters in real time. A plethysmographic waveform, which depicts the blood flow in the fingertip, may also be shown on some models.
It's critical to remember that while fingertip pulse oximeters are a useful tool, they cannot replace expert medical advice or diagnosis. It is always advised to seek the advice and thorough examination of a healthcare professional if you are concerned about your oxygen levels or pulse rate.
Product Specification
| | |
| --- | --- |
| Brand | Secure Eye |
| Usage/Application | Home Use |
| Oximeter Accuracy | 95% |
| Warranty | 6 Months |
| Model Name/Number | Pulse Oxymeter |
| Display Mode | 3 Display Modes |
| Display Type | Single Color LED |
| Parameter Measures | SpO2 + Pulse Rate |
FAQ
1. A fingertip pulse oximeter is what, exactly?
Ans - A fingertip pulse oximeter is a non-invasive medical tool used to gauge a person's blood's oxygen saturation and heart rate. It commonly attaches to the user's finger and measures the blood's oxygen content using infrared light.
2. What advantages can fingertip pulse oximeters offer?
Ans - A person's oxygen saturation and pulse rate can be measured quickly and precisely using a fingertip pulse oximeter. As it can assist identify concerns that other approaches might miss, this is especially advantageous for patients with respiratory conditions.
3. How frequently should I put a pulse oximeter on my fingertip?
Ans - A fingertip pulse oximeter should be used everyday, especially if you or someone you know has a respiratory disease.
4. Does using a fingertip pulse oximeter come with any risks?
Ans - The majority of people do not encounter any dangers when using a fingertip pulse oximeter. To minimise any potential dangers, it is crucial to use the equipment exactly as the manufacturer has instructed.
5. How should I respond to inquiries regarding using a fingertip pulse oximeter?
Ans - It is best to speak with your doctor or another medical expert if you have any concerns about using a fingertip pulse oximeter. They will be in a position to give you the best guidance and address any queries you may have.
Contact Us
4 A Govind Chand Dhar Lane, 2nd Floor , Room No. 205 , Kolkata, West Bengal, 700001, India
Phone :+918037550757