Food Delivery Bag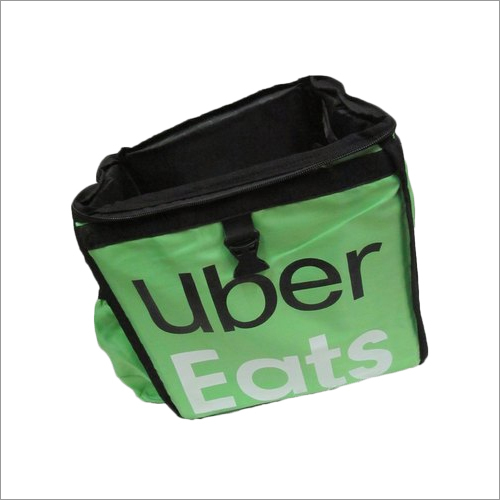 Food Delivery Bag
Price And Quantity
Product Specifications
14.5 x 14.5 x 14.5

customised
Product Description
A specialised bag made to transport food while preserving its temperature is referred to as a food delivery bag, thermal delivery bag, or insulated delivery bag. Restaurants, caterers, and online food delivery services frequently utilise these bags to keep food hot or cold during transportation.
High-quality insulating materials that provide temperature preservation and aid in preventing heat or cold from exiting the bag are often used to make food delivery bags. Whether it's sizzling pizza, crisp salads, or cold beverages, the insulation aids in keeping the food at the correct temperature.
To shield the food from spills, moisture, and the environment, these bags are frequently made with tough and water-resistant materials on the exterior, including nylon or polyester. As they may come into contact with food and spills while being used, they are also made to be simple to clean and maintain.
A zipped closure is typically found on food delivery bags to keep the contents inside safe and prevent heat or cold from escaping. For transporting utensils, condiments, or other supplies, some bags may contain extra pockets or compartments.
Food delivery bags can range in size and capacity, from small bags for transporting a few items to bigger bags that can hold several food containers or pizza boxes. Additionally, some bags have separators or straps that may be adjusted to hold the food containers and keep them from shifting while being transported.
It's important to take into account elements like the intended use, the type of food being transported, and the anticipated delivery duration when choosing a food delivery bag. Food must be kept fresh and at a safe temperature throughout the delivery process, therefore insulation thickness, quality, and temperature control are essential factors.
Overall, food delivery bags are a crucial tool for companies and people that provide meals. They aid in preserving the food's quality and temperature so that patrons receive their meals in the best possible shape.
Product details
| | |
| --- | --- |
| Material | 1000 denior water resistant fabric |
| Color | Any can be customised |
| Pattern | Printed |
| Bag Size | 14.5 x 14.5 x 14.5 |
| Model Name/Number | Food Delivery Bag |
| Size/Dimension | 14.5 x 14.5 x 14.5 |
FAQ
1. What exactly are food delivery bags?
Ans - An insulated bag or container called a "food delivery bag" is used to keep food warm and fresh throughout delivery to its destination.
2. How should a food delivery bag be cleaned?
Ans - You should first wipe the interior and exterior of the food delivery bag with a moist towel to clean it. After that, wash the bag in warm water with a moderate detergent. The bag should then be rinsed and dried with a clean cloth.
3. Where should I keep the meal delivery bag?
Ans - A meal delivery bag should be kept in a cool, dry location while not in use. Additionally, it needs to be kept away from heat sources and the sun's rays.
4. How frequently should I get new delivery bags?
Ans - A food delivery bag needs to be changed at least once every year, and preferably more frequently if it is used frequently.
5. What kinds of food are permitted in meal delivery bags?
Ans - Food delivery bags can contain any kind of food as long as it is properly preserved and sealed. In order to keep the food fresh, it is crucial to preserve it at the proper temperature.
Contact Us
4 A Govind Chand Dhar Lane, 2nd Floor , Room No. 205 , Kolkata, West Bengal, 700001, India
Phone :+918037550757