Travel Luggage Bag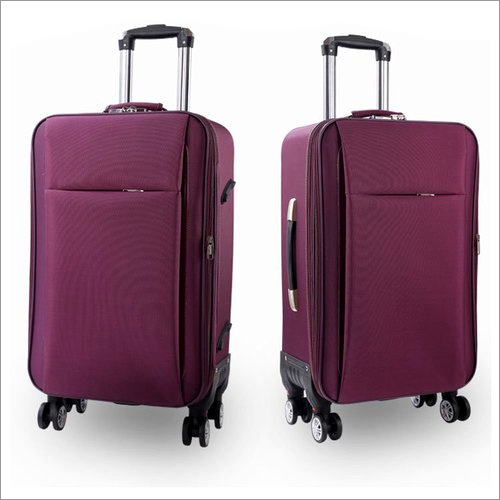 Travel Luggage Bag
Price And Quantity
Product Specifications
Purple, Red, Green, Blue, Brown
Product Description
A travel luggage bag is a container used to carry items when travelling. It often features a handle or wheels for transport and is composed of a sturdy material like hardside plastic or softside fabric. To meet various travel demands, luggage bags are available in a range of sizes, from little weekender bags to huge suitcases.
The following aspects should be taken into account while selecting a travel luggage bag:
Size: The bag's dimensions should be suitable for the duration of your journey. A tiny weekender bag can be all you need if you are simply taking a brief trip. You will need a larger suitcase, though, if your journey is longer.
The bag's material should be strong and resilient enough to resist the rigours of travel. Although they are heavier, hardside plastic bags are more robust than softside fabric bags. Despite being less sturdy, softside fabric bags are lighter than hardside plastic bags.
Features: Some travel luggage bags have extra features like built-in wheels, a telescoping handle, and a lock that has been certified by the TSA. These characteristics can assist keep your stuff safe and make it simpler to transfer the bag.
The following are some advantages of using a travel luggage bag:
Convenient: Carrying your items when travelling is made simple with travel luggage bags. often come in a range of sizes to meet various travel demands, and often include handles or wheels for simple transport.
Durable: Travel luggage bags are built of strong materials that can survive the rigours of travel, including hardside plastic or softside cloth.
Secure: To help keep your possessions safe, travel luggage bags can be locked with a TSA-approved key.
The following are a few disadvantages of utilising a travel luggage bag:
Expensive: Luggage bags for travel can be pricey, especially if they are constructed from premium materials.
Hardside plastic travel bags can be quite weighty, especially when they are loaded.
Large travel luggage bags can be challenging to move around, especially in congested places.
In general, travel luggage bags have many advantages. They are practical, reliable, and safe. They can, however, be pricy, bulky, and cumbersome to use.
When preparing for a trip, it's critical to pick the ideal travel bag for your needs. To choose the ideal bag for your vacation, take into account the aforementioned aspects.
Product Specification
| | |
| --- | --- |
| Material | Nylon |
| Brand | Uni Style |
| Usage/Application | Travel |
| Color | Purple, Red, Green, Blue, Brown |
| Size/Dimension | 2 X 3 Feet |
| Pattern | Plain |
| Closure Type | Zipper |
| Gender | Unisex |
FAQ
1. How much weight can a suitcase accommodate?
Ans - It depends on the kind of bag, however the majority of common travel bags can support up to 50 pounds.
2. What kind of material works best for a travel bag?
Ans - The strongest and lightest material for a baggage bag is nylon.
3. What kind of wheels are ideal for a bag of luggage?
Ans - Because they are sturdy and offer a smooth ride, in-line skate wheels are the greatest kind of wheels for a luggage bag.
4. How should a bag of luggage be packed?
Ans - Rolling your clothing tightly to save space and using smaller bags or packing cubes to keep things organised are the best ways to pack a travel bag.
5. What steps should be taken to secure a bag of luggage?
Ans - Use a TSA-approved lock to prevent damage to the bag so that airport security can open and examine it. Use a luggage tag with your contact details on it as well in case your suitcase is lost.
Contact Us
4 A Govind Chand Dhar Lane, 2nd Floor , Room No. 205 , Kolkata, West Bengal, 700001, India
Phone :+918037550757